GOLD IS MAKING A COME BACK!
Yellow gold may have a rep for looking dated, but the classic metal is making a comeback! What's the appeal of this pure form of gold? It's about as low maintenance as it gets. Yellow gold is the most hypoallergenic gold, and is easier to clean than white or rose gold. Not to mention, it's priced lower than other fine jewellery metals like platinum. Whether you're in the market for a modern take on a old classic, or looking to give off a fabulous nostalgic vibe, we can't get enough of this trend!
TAKE ADVANTAGE OF OUR SUMMERTIME SALE AND TREAT YOURSELF TO A 25% DISCOUNT ON OUR FABULOUS 14K & 18K YELLOW & WHITE GOLD jewellery.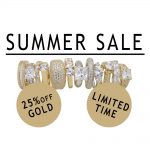 Shop for gold here